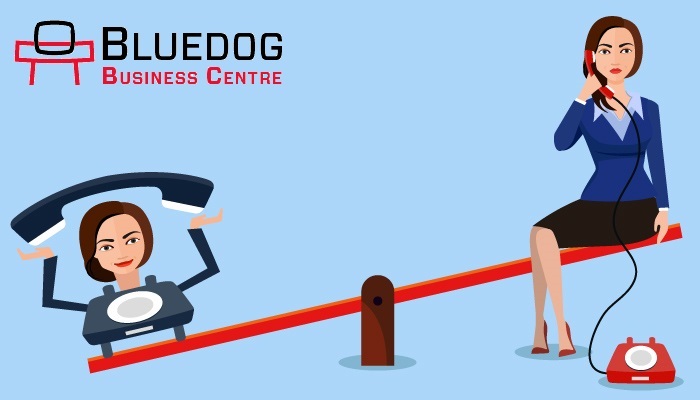 Virtual Receptionist boost your business up!
Your business will significantly grow knowing that you will never miss a call! For a very competitive monthly price, a Virtual Receptionist can provide your business with a number that prospective clients will immediately recognize and trust.
Additionally, 'virtual receptionist' services can help you focus on the task at hand, but not at the expense of any potential opportunities, as your calls will be received, diverted, and message taken. It's commonly said that the first impression is the strongest, but if you are away, your clients will have a professional receptionist answering your calls and explaining to them that you are in a meeting.
How does it work? This service is essentially a premium answering service that will take all your calls using the scrip you provide us! Large call centre has quite noises from the background and will be easily notified that it is a virtual office. However at BLUEDOG BUSINESS CENTRE, it will seem very realistic as there are minimum noise levels and walk in clients are always welcomed. It is a real office! Do you have a personal script you want us to read? That is always welcomed and our receptionist will always do best to make your clients and yourself satisfied. You can even provide a list of other names you use for your companies or even products that we can briefly explain to your customers.
Virtual Receptionist bring in the leads
Our receptionist's job will vary depending on the nature of your company. It can be a simple service of answering phone calls or more involved reading scripts to work potential clients through your sales. It's a system in place that takes care of your customers. Our receptionists are all smart to belong in the nature of your company and any type of company will be available. It could be law firm, building project, cleaning, solar and education companies! You can have no stress knowing that your calls are all taken care of. It will be very different to a normal day where you take all your phone calls.
By hiring a virtual receptionist, not only do you cover all your bases, but you will ensure that every lead is chased and no money is left on the table! Your customers will appreciate you taking time to address their concerns while you can spend more time doing your personal work that caught their attention in the first place!